This 10-day self drive Botswana safari tour from Chobe to Okavango Delta via Victoria Falls, is ideal for guests who want to experience Botswana and Zimbabwe at their own pace while still enjoying the luxury of staying at a safari lodge.
Self-drive Botswana Safari Experience
Set out and explore as you cross the borders to drive from camp to camp and lose yourself in the exquisite Botswana scenery. Rest your head at cosy safari lodges in between action-packed safaris.
Venture on thrilling bush drives to track predators, antelope and other roamers. Experience the bush on foot on guided walking safaris. Sail off into the sunset on magical boat cruises of Chobe River, glide through the lily studded Delta waterways and witness a diversity of wildlife.
Self-drive Botswana Safari Highlights
Visit Chobe National Park, Victoria Falls in Zimbabwe, Makgadikgadi Pans in the Kalahari, Moremi Game Reserve in the Okavango Delta
Good road conditions that are well sign posted
Travel and explore at your own pace with a 4×4 vehicle with gps and satellite phone
Cruise the Chobe River during sunset
Explore the Makgadikgadi Salt Pans
Go on thrilling game drives in Chobe National Park
Glide along the Delta waterways in a traditional dug-out canoe
Fly over the Okavango Delta waterways
See the Victoria Falls from the sky (optional)
Day 1: Pick up car rental in KasaneView Lodge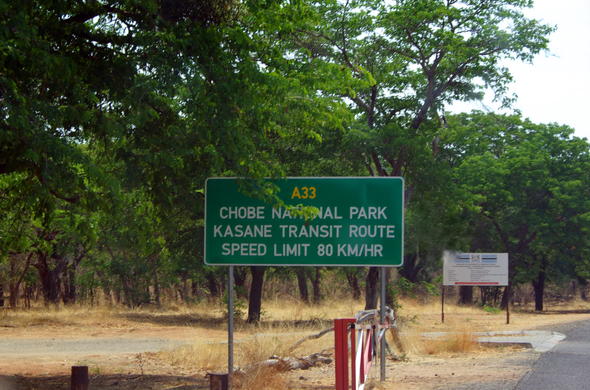 Pick up your Botswana car rental and experience this amazing journey at your own pace as you travel through exquisite scenery enroute to your Chobe River accommodation. Unwind with a refreshing drink and enjoy picturesque views of the lush vegetation and the pristine Chobe River. 
After a long journey, relax and unwind with a cold drink and freshen up for the adventures you are about to experience. Set off on a action-packed game drive and celebrate your first night on your self-drive Botswana safari tour with sundowner drinks in a scenic location.
Day 2 & 3: Explore Chobe National ParkView Lodge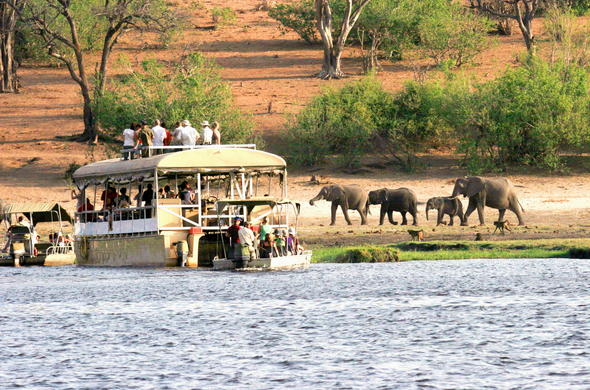 Have an early start to your day to indulge in everything the African wilderness has to offer. Venture on a guided morning game drive in the Chobe National Park or track wildlife from your own vehicle. Alternatively, mornings can be spent enjoying a fishing excursion on the Chobe River, or an exciting walking safari in the vast wilderness. 
Afternoons are spent on tranquil river cruises on the Chobe River in Botswana. Take delight in the trumpeting sounds of elephant and watch as large herds of these majestic creatures come for a drink at the banks of the Chobe River.
Day 4 & 5: Discover Victoria Falls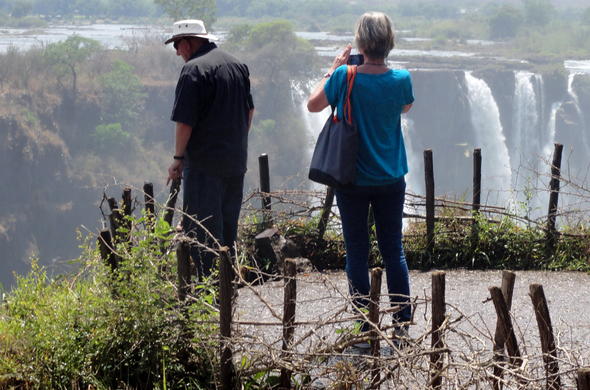 Tuck into a wholesome breakfast and set off for a scenic journey to Victoria Falls in Zimbabwe. On your journey you will encounter wild game and observe how the locals go by their everyday lives. After a long day of travelling relax and unwind at your Victoria Falls accommodation. Spend the day at leisure and take a dip into the crystal clear swimming pool. Many exciting optional adventures await for you to take delight in. 
Thrill-seekers can embark on white water rafting, bungee jumping, canoeing safaris, and a helicopter flight over the exquisite Victoria Falls. A wildlife adventure of a lifetime can be experienced on boat cruises of the Zambezi River, unforgettable elephant excursions, guided walking safaris and action-packed game drives. 
Distance approx. 100km – driving time approx. 2-3 hours (Border Crossing into Zimbabwe)
Day 6 & 7: Visit the Makgadikgadi Salt PansView Lodge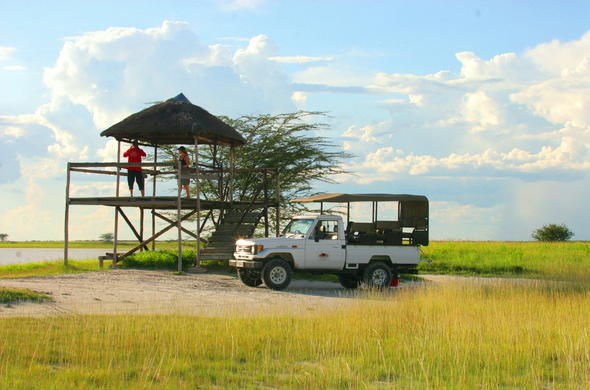 Say goodbye to Zimbabwe and return to Botswana to continue your epic African self-drive safari. There will be a day of driving ahead of you. The road conditions are good and on your journey to your lodge in the Makgadikgadi Pans you can stop and take photos, spot a myriad of colourful bird and enjoy a picnic on a scenic spot.
The highlight of your stay is a guided excursion of the Salt Pans. Make sure to bring your camera along to capture the unique beauty of this salty desert on an adventure-filled afternoon. Nata is a birders paradise and you can enjoy sightings of Helmeted Guineafowl, Crested Francolin, Yellow Hornbill, Pied and Arrowmarked Babblers are among the birds that soar the skies. 
Distance approx. 320km – driving time approx. 5 – 6 hours
Day 8 & 9: Fly into the Okavango DeltaView Lodge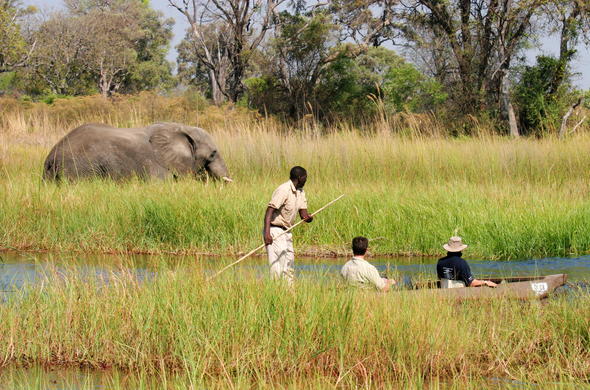 After an early morning breakfast make you way to Maun where your self-drive leg of this Botswana safari will come to an end. Drop of your vehicle in Maun and board a light aircraft that takes you into the Okavango Delta. Lose yourself in the marvellous scenery from your private window as you fly at a low altitude over the Delta waterways. Sit back and enjoy a mini game transfer to your Okavango Delta accommodation
Your last few days in the African wilderness is dedicated to relax and soaking up the ambiance in the diverse Moremi Game Reserve. Discover the hidden secrets of the African bush on a leisurely mokoro cruise and witness of a profusion of birds, and feel the thrill as you encounter hippo. Motor boat safaris in the afternoon are ideal for witnessing the majestic African sunset. Dose off as the nocturnal choir sends you off into a deep sleep. 
Distance approx. 300km – driving time approx. 3 – 4 hours
Day 10: Farewell to Botswana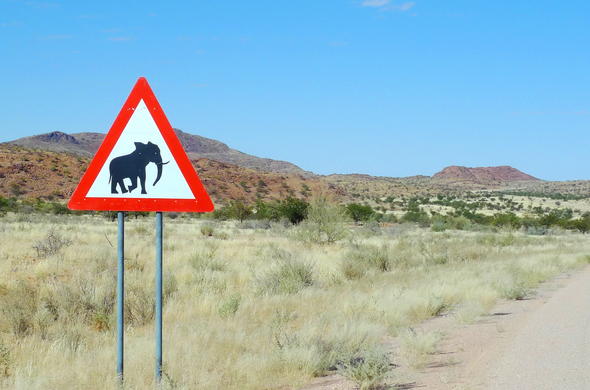 The time has come to say goodbye. Enjoy a hearty meal and a last opportunity to take photos of the African wilderness. Catch a final glimpse of Moremi Game Reserve and Okavango Delta from the window of your light aircraft en route to Maun.
Rates & Prices
Included
8 days' Botswana car rental with premium insurance, gps and satellite phone hire
Light aircraft transfer from Maun to/from Okavango Delta
3 nights' accommodation at Chobe Safari Lodge (with breakfast, dinner and daily activities)
2 nights' accommodation at A'Zambezi River Lodge (with breakfast daily)
2 nights' accommodation at Nata Lodge (with breakfast and dinner daily)
2 nights' accommodation Moremi Crossing in the Okavango Delta (with breakfast, lunch, dinner, locals drinks and daily activities)
Boat safari cruise along Chobe River (one shared and one private cruise)
Chobe National Park guided game drive in 9 seater game viewing vehicle (two per stay at Chobe Safari lodge)
Guided Salt Pan drive via the Nata Bird Sanctuary (3 hours)
2 hours fishing or Namibian village walk (one per stay at Chobe Safari Lodge)
'Mokoro' canoe excursions, bush walks, boat cruises and fishing at Moremi Crossing
Excluded:
Drinks and meals not mentioned above
Park and entrance fees
Optional activities and extras to be settled direct