A review of some of Chobe's game lodges based on personal experiences.
Chobe Game LodgeView Lodge
This IS a luxury oasis in the bush – cool, serene and quiet. A river-side resort inside Chobe National Park.
Featuring a brand new Sky Walk on the river bank which offers splendid views across the floodplain and possibilities for water game sightings. Hippo, elephant and crocodile…The Skywalk has several viewing spots set out with either table/s and chairs or benches with side tables. 
All ideal spots to isolate yourself from the lodge, and contemplate the view either with lunch or sundowners.
You might even have the restaurant serve your candle lit dinner out here.The ambience is perfect for relaxing and dining between game-drives, or in transit between other safari lodges.
Resident buck and warthogs graze on the hotel lawns and opportunistic baboons are available for petty theft incidents, so lock your suite when you leave… and when you are asleep.After a choral performance, dinner with a live marimba band could be accompanied by passing buffalo just below the dining deck. The food is excellent and the lamp lights, marimba music and hot evening air makes for a celebratory, party-like atmosphere.The suites compare with any 5 star city hotel room… the services leave nothing to be desired. The staff are incredibly friendly, and most of their expert safari guides and drivers are women.
Chobe Marina LodgeView Lodge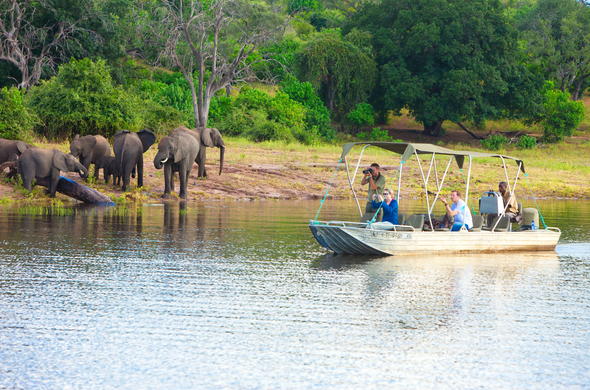 Your accommodation ranges from suites with private lounges, apartments, chalets, studios, complete with air-conditioning, TV, phones, mini bar, mosquito nets & mosquito repellent machine (which you really need) and daily serviced. 
Commissioner's Elegant Dining Restaurant offers Vintage dining a table d'hote and a la carte menu. On the riverside of the main building, you can be treated to world-class cusine and dine in opulence.
Mokoros Family Restaurant offers local cuisine in a more informal environment. Continental and Full English Breakfast and light Lunch.The Poolside Bar and Riverside Bar each offer a light lunch from the Pool and Terrace Menu. A barbeque dinner can even be arranged for groups, on request.
As with other establishments, you will be treated to game drives in the Chobe National Park, only 10 minutes a way.You should take a river cruise for a different game viewing perspective. And be sure to be taking a champagne sun-downer cruise which is one of the best Chobe experiences to be had
Muchenje Safari LodgeView Lodge
This magnificent lodge sits on the top of a high escarpment overlooking the Chobe flood-plain, and the last high piece of ground you will see going into Botswana.
From the main deck, or from your tented chalet, you have views across the Caprivi into Namibia.If you want to see more elephants than you can shake a stick at – here's a place that will not disappoint. But to do this – the hot dry season is best. IF you can abide the hellish heat.Chobe is absolutely flat, and from this vantage point, one has a view of Namibia, and without binoculars one can mistake the grazing cattle of the locals for buffalo.
What passes for rivers, are merely the deepest channels of what will become a massive slow-moving river in the rain season – by which time all the game, will have dispersed.The main lodge area comprises several lounges, bar, banquet table and several out-door dining decks – both shaded and un-shaded. A moderately sized pool-deck surrounds a sparkling pool for these blazing, dry days.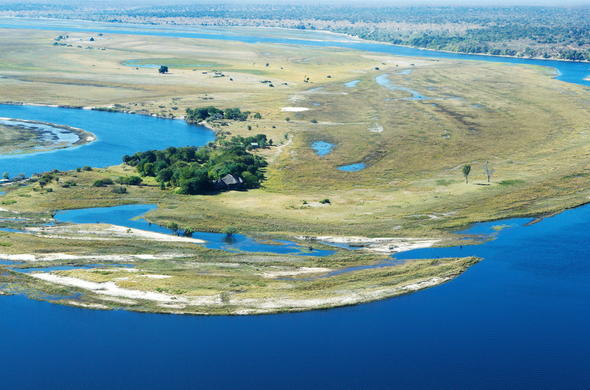 Accommodation comprises of a row of well separated thatched chalets, ensuring complete privacy and an exceptional view of the floodplain. Very comfortable, well appointed and truly safari-ish, replete with mosquito nets as is every other place in Bots. Your hosts are homely and convivial, and make you feel right at home. Dining with the hosts is a jolly affair and the food is very eat-some-more-ish.
A game drive running from late afternoon to sunset is an endless theatre of elephants, giraffe, wildebeest, elephants, lion tracks and more elephants and occasionally, safari vehicles.
Chobe Savanna LodgeView Lodge
Definitely a"lets-go-back-there-again" kind of a place – even getting there is a bit of a trip in itself. The skiff takes you from the extremely busy but efficient Botswana immigration to an island in the middle of the river where you have to check-in with the Namibian Police border control.On the Namibian side of the Chobe River, and after a circumnavigation of the peninsula by skiff taking in views of elephants, crocodiles, hippopotami and buffalo… and endless reeds and water – and a sky so wide it truly awes the mind – you eventually arrive at the lodge…followed by a cordial cocktail and a briefing by the lodge manager regarding safety protocols.
Wild beasts… fires… other wild beasts…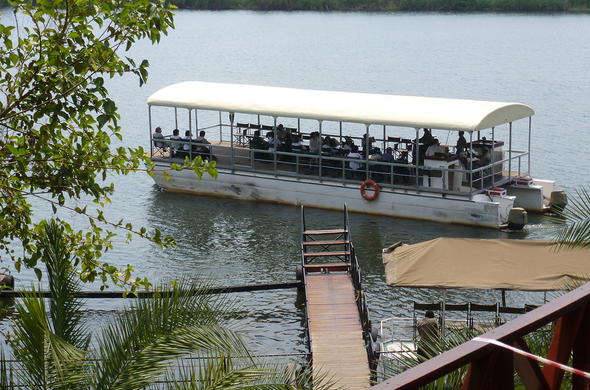 The lodge itself is an imposing thatched, timber pole structure commanding a 270 degree view of the Chobe River. 
The multi-level structure provides a variety of viewing decks from the pub, the dining area, the reception area, the library – offering a seamless panoramic view that is interrupted only by the kitchen.
Now this kitchen is the source of all well-being. 
After a rousing choir put on by the lodge staff, the choice of fare is mind-boggling. Confusing, even.
Where to start? It is all so good…
The dining hall has one huge banquet table, and dinner is out of this world.
From the elevated bar at night, you can watch the elephants grazing just metres away.Accommodation comprises of just 12 thatched and air-conditioned chalets, each with river facing patio. 
Comfortable and compact, well appointed with mini bar fridge and with the inevitable mosquito nets and a hippo path from the river to the lawn. The chalets are all well spaced apart, and offer complete privacy.
Cresta Mowana Safari Resort and SpaView Lodge
Right on the Chobe River. this is a sprawling agglomeration of suites, swimming pools, pool-deck bars, restaurants, cocktail lounges, conference rooms, a child care centre and newly refurbished spas and fitness studios.Ideal for families especially, as well as anyone else who wants a nice place to stay and relax, before setting off to, or ending a guided or self-drive safari. Guests of all ages and cultures are laid-back, dining, drinking and having fun. The food and service are of a high standard, consistent with any 4 star hotel. It is an hotel.All 115 bedrooms provide panoramic river views and have an ethnic decor style. The Serondella restaurant and Savuti Cocktail Bar overlook the Chobe River and Namibian flood plains, and from here you can watch the varied and abundant wildlife gather at twilight.The resort offers game drives into Chobe National Park, as well as morning and afternoon river safaris by mokoro.
Also in Kasane. Right on the Chobe River, sit out at the pub, or take a sunset sun-downer cruise on a flat-deck boat, or even go out on a nature cruise on one of the small and nimble skiffs.
Kubu LodgeView Lodge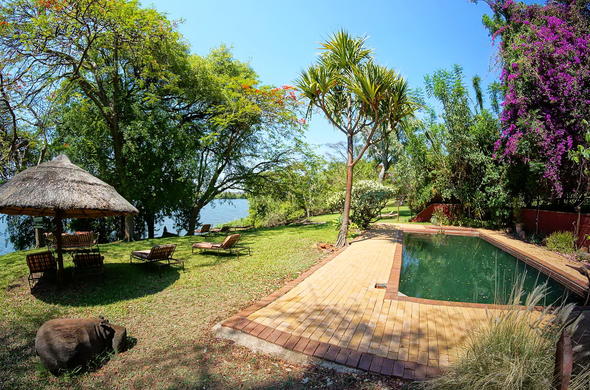 This is a charming riverside resort, right on the Chobe riverside. With elevated chalets set out on large well-kept lawns, amongst wild fig trees and giant ebony trees this is an excellent place to start your trip into Botswana, or end your trip on the way out. Especially if you are doing a self-drive safari.
Located in Kasane, it is not far from Victoria Falls, so you can include the Falls in your trip with a short(ish) drive into Zambia. No phones, no radios, no TV. Serenity and un-hurried. There are only 11 chalets so Kubu is fairly intimate. There is only one family chalet, so if you are travelling with kids, you would want to book early.River safaris, game drives into Chobe and sun-downer cruises are the order of the day.Hippos graze on the lawn at night – so romantic evening strolls are out of the question.
Don't Walk Here!