There can be few more dramatic experiences than driving through pristine wilderness and there is no better place to do this than in the northern part of Botswana. It is not for the faint-hearted, and, experience in driving in difficult conditions is a necessity.
by Leigh Kemp
People who are doing a 4×4 self drive in Botswana often hire a vehicle, and these come with everything you need on your journey. Below is a quick checklist of advice that could help you when on a self-drive safari in Botswana
But first: Make sure the vehicle you are travelling in has been serviced before the trip.
General Botswana Self-drive Tips
Watch the road signs
Travel with two vehicles
All vehicles are right hand drive
Drive on the left hand side of the road in Botswana
Watch out for animals – many of the roads are unfenced and animals such as donkeys often wander across the road, in national parks it could well be an elephant!
A related point – stick to the speed limit, especially in the national parks – it is for your safety and allows you to see many more animals that you may have just whizzed past.
Do not travel after dark, as animals are harder to see on the road at night. Many accidents happen because of this. 
Animals such as kudu often jump across the road at night in front of cars, so you need to be very cautious when driving at night.
Many parts of Botswana's game reserves are only accessible in 4 x 4 vehicles due to the rough roads. You can rent 4×4's from several companies or ask one of our Destination Specialists to assist you.
Take extra petrol with you in Jerry cans – even if you have a backup tank. Most of the petrol stations are only located in the major cities and you can use a lot of fuel when driving through sand, so you may often use more than you think.
Take at least 100 liters of water with you. The water in the rivers needs to be boiled before drinking it. So take clean water with you. Also you may need it to fill radiators or for basic washing etc.
Carry a satellite phone. When you run into trouble, it will be in the middle of nowhere and you will have no idea when the next vehicle might come by. You need to have some way to ask for help in an emergency.
Take a GPS and maps. The roads are often not sign-posted so a map is a definite necessity.
You should carry extra spare tires, and a high lift jack as well as an ordinary jack.
Carry a basic set of tools with spanners and screw drivers. If you are mechanically inclined, then consider taking a few basic spare parts such as a fan-belt.
A spade is also an essential item for digging out stuck vehicles.
Take a medical aid kit. In the heat and humidity even small cuts can get infected quickly, so it is a good idea to carry a basic medical aid kit with you.
An essential element of your trip is patience – to enjoy what Botswana has to offer do not rush from place to place, but rather take your time and enjoy the spectacular wilderness.
Additional Self-drive Tips for Northern Botswana
Watch out for Buck
Roads in the parks of Northern Botswana are very bad, rutted and very sandy. So carry extra fuel
Fuel is not available from the camps en route so make sure you have enough to get through from Maun to Kasane – or vice versa.
Further Advice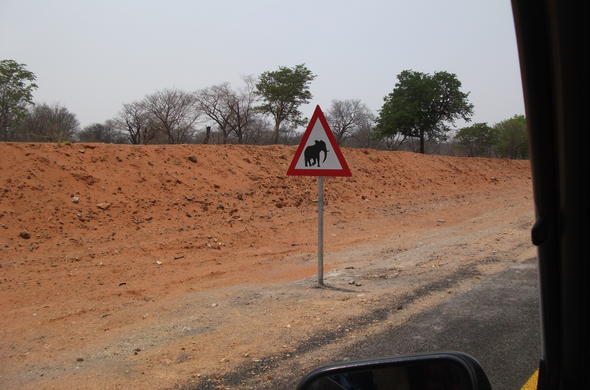 Watch out for Elephants
The best self-drive advice is: Travel With Two Vehicles.
Find out about Botswana Self-drive Safari Packages